I am taking a break from packing for my Fiesta Weekend in NYC to talk about
Mike Nichols'
The Graduate

.
This is one of my ALL TIME FAVORITE films. I am obsessed with the genius that is Anne Bancroft--everything she did. She was also married to
Mel Brooks
, which makes her even COOLER!
This movie makes a visual presentation that embodies empathy for anyone who is taking a year off or having a lull in their life. The May-December romance is an added dramatic element, but there is so much more to this movie.
My friend Brian and I were just talking, briefly about this movie (that is currently on
TCM
and sparking this entry). We were actually talking about
Butch Cassidy and the Sundance Kid
and about Robert Redford (<3). Robert Redford was the studio pick for the aimless character of Benjamin Braddock. The book that the film is based on calls for a "surfboard" type, a true California beach boy. Obviously Dustin Hoffman is anything but-- and that was the juxtaposition that Mike Nichols was looking for.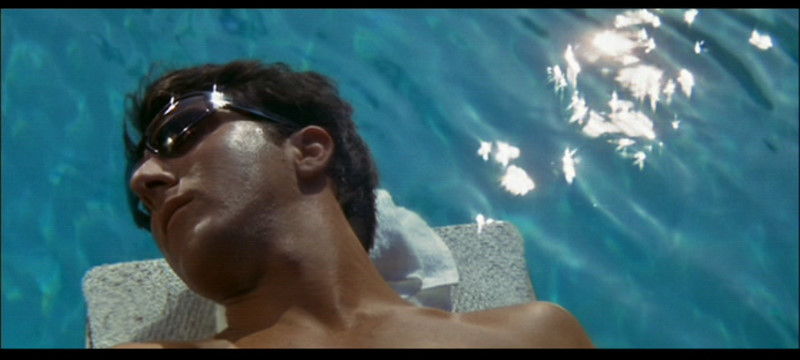 "Robert Redford
screen-tested with
Candice Bergen
for the part of Benjamin Braddock but was finally rejected by director Mike Nichols because Nichols did not believe Redford could persuasively project the underdog qualities necessary to the role. When he told this to Redford, the actor asked Nichols what he meant. "Well, let's put it this way," said Nichols, "Have you ever struck out with a girl?" "What do you mean?" asked Redford. "That's precisely my point," said Nichols." (
imdb.com
)
I had heard about this from the behind the scenes interview on a DVD but it was nice to chat about it with a future Trojan (Shoutout to Brain Bibbo! Lol!)
I think this movie's mastery is achieved due to the collaboration and combination of various creative pieces that made a glorious whole (haha, glorious whole...say it out loud).
Anne Bancroft
was a talented theatre and film actress who really blossomed in the 1960s. She had a couple "B-movies" in the 1950s, but made it big in the 1962 film
The Miracle Worker.
She had played the part of Annie O'Sullivan on Broadway, co-starring with Patty Duke, who played Helen Keller.
They made the jump from a successful run in the theatre to a successful, award winning film.
She was a devoted actress who took every moment and filled it with talent. Anne continued to work in film, theatre and television until her death in 2005 from cancer.
Dustin Hoffman was actually only 6 years younger than Anne Bancroft in real life--but in the film, you'd never know. They both played opposite ends of life with incredibly believability. Hoffman wasn't the first pick for this film, but his wits and talent provided him to be the best pick. He improvised certain scenes like when he has to grab Mrs. Robinson's breast-- he was about to laugh, due to the crew's laughter, and instead turned it into frustration and banged his head against the wall. He also invented a slight wimper-cough that he picked up from Mike Nichols. This turned what could looked like a 31 year old playing an 20 year old into a unconfident character, believably 20 year old, goalless, boy-man.
Mike Nichols is a genius. There are so many shots, looks, choices, etc. in this film that add up to a visual gem. I'm going to bulletpoint a couple examples that will hopefully entice you to watch the film for the 1st or millionth time.
The sunporch scene--the famous one with the leg shot.
The transitions from black to black when he's going through his routine of sleeping with Mrs. Robinson and his

blasé lifestyle.

The scene when Benjamin tells Elane about the affair--then the hallway shot of Anne soaking wet.


The sunporch when she says "I'm extremely upset Benjamin"

The hotel--darkness--who would have thought?

The swimming pool 1st person P.O.V.

Through the fishtank

Over the wooden banister at the hotel

Don't forget the soundtrack!!

The list goes on-- I mean pay attention to what they wear. Mrs. Robinson wears animal print and black.
Benjamin is a prep from the East. The rest all look like "plastic" country club folks.
Watch this movie. It's wonderful.
If you feel like you have no direction, if you're taking time off from work, school or something, it is a perfect film to find empathy or sympathy; whatever you need. I have used it to help me get through and I have studied it over and over. I will continue to do so and once again I urge you to see, listen and feel
The Graduate.